Let's Get You Signed Up!
SIGN UP is the first step to claiming your SmartDollar benefit account. Make sure to ask your HR or Benefits team for your company KEYWORD. You will not be able to enroll without it.
Employee Info?
Some companies may require additional Employee Info to verify your eligibility. For your protection, the enrollment process will verify your info so only you can redeem your SmartDollar benefit.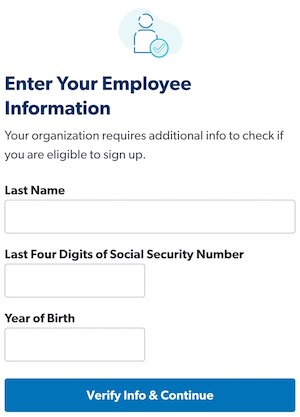 The info you enter must be an EXACT match with your company's eligibility file. If not, you will get an error message. Your HR or Benefits team can provide your Employee Info upon request. For security reasons, the SmartDollar support team may not have access to your info. Your Employee Info may include:
First Name
Last Name
Employee ID
Last 4 of SSN
Year of Hire
Birth Year
Get Creative!
You're almost there.
Enter your Email
Choose a Password
Click Create Account
Verify your email to finish
One Account!
Most employers only allow one account per team member per household. So, choose your email address wisely. If you signed up with the wrong email by accident, you can change the email in your account settings. If your account won't accept the new email, contact the support team so we can help you start over. We may need to deactivate the first account so you can re-enroll with a new email address.
Need Help?
If you have any questions or need further assistance, just click Submit a request and our SmartDollar support team will be happy to help with your enrollment.
Check out these helpful articles to get started:
How do I link EveryDollar to SmartDollar?
Getting started for SmartDollar Users
How Do I Navigate My SmartDollar Account?
What's the point of SmartDollar points?
Check out these articles for companies that use the special SSO: Single Sign-On process:
How do I Sign Up with Jackson National Life?
How do I Sign Up with Parkview Health?
How do I Sign Up with Sharecare?
How do I Sign Up with Trilogy Health Services?
Are you having trouble when trying to SIGN UP? Check out these other support articles:
Where is my account verification email?
Error Message: "The ID you entered is invalid or already in use."

Error Message: "Double-check your Last Name, Year of Birth, and the Last Four Digits of SSN."
Error Message: "Sorry, something didn't work correctly on our end."
Error Message: "Looks like you no longer have an active SmartDollar account."