You can update your Baby Step (or skip a step that doesn't apply)* with a few clicks of your mouse.
Click on the Baby Steps tab in the left sidebar of your account.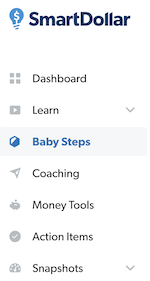 Notice the Baby Step numbers 1 - 7 at the top of the screen.

In this example, we're on Baby Step 1. We want to move to Baby Step 2.
Click Baby Step 2 or whichever one you're working on at the moment.

Under the Baby Step description, click I'm on this Baby Step

.
The button will then turn green

.
The new Baby Step will highlight in color.
The little gold marker will move to the new Baby Step.

In this example, we moved from Baby Step 1 to Baby Step 2.
Notice Baby Steps 1 - 2 are highlighted in color. We are making progress!
Notice Baby Steps 3 - 7 are greyed out. We still have more work to do.
Remember, the Baby Steps need to be completed in numerical order. It's a progressive journey, not a checklist.
* If you finish Baby Step 1 and don't have any consumer debt, you can skip to Baby Step 3.