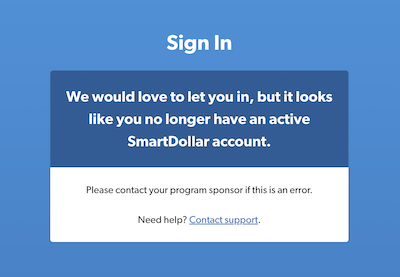 This means you have signed up for the SmartDollar program in the past but your account is no longer active. The reasons for this may include:
You were accidentally marked ineligible by your employer
You left work and then came back but your status was never updated
Your employer did not renew their SmartDollar contract
Your employer deactivated your account if it wasn't used in the last year
You requested an account deactivation at some point and forgot
You no longer work for the company
For the quickest solution, contact your HR or Benefits team to have them update your eligibility status. Once your status is updated, you will be able to regain access to your account.
Need Help?
The SmartDollar Support Team can provide more details about your account status. Click Submit a request so we can assist you further. However, your HR or Benefits team will need to correct the eligibility status to restore your account.
Please include the name of your employer or third-party provider so we can quickly identify a solution.